Upcoming Event
Brookline Booksmith Used Book Cellar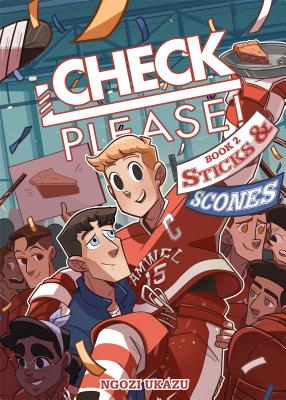 Buy Now
Check, Please! Book 2: Sticks and Stones
This event will be in conversation with Kamille Washington
Check, Please!: Sticks and Scones is the second in Ngozi Ukazu's hilarious and stirring two-volume coming-of-age graphic novel series about hockey, bros, and trying to find yourself during the best four years of your life.
Eric Bittle is heading into his junior year at Samwell University, and not only does he have new teammates—he has a brand new boyfriend! Bitty and Jack must navigate their new, secret, long-distance relationship, and decide how to reveal their relationship to friends and teammates. And on top of that, Bitty's time at Samwell is quickly coming to an end…It's two full hockey seasons packed with big wins and high stakes!
Ngozi Ukazu is the creator of Check, Please, an online graphic novel whose printing campaign remains the most funded webcomics Kickstarter ever. She graduated from Yale University in 2013 with a degree in Computing and The Arts, and received a masters in Sequential Art in 2015 from the Savannah College of Art and Design.
Kamille Washington is one half of the Unfriendly Black Hotties, a podcast about the intersection of race, gender, and sexuality in higher ed, pop culture, and politics. She finances her comic book habit by managing international things at Harvard.