Upcoming Event
Brookline Booksmith Used Book Cellar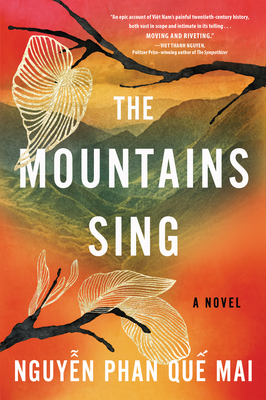 Buy Now
The Mountains Sing
This event is co-sponsored by the William Joiner Institute for the Study of War and Social Consequences at UMass Boston.
Vivid, gripping, and steeped in the language and traditions of Việt Nam, The Mountains Sing brings to life the human costs of this conflict from the point of view of the Vietnamese people themselves, while showing us the true power of kindness and hope. It is celebrated Vietnamese poet Nguyễn Phan Quế Mai's first novel in English.
Born into the Viet Nam War in 1973, Nguyễn Phan Quế Mai grew up witnessing the war's devastation and its aftermath. She worked as a street seller and rice farmer before winning a scholarship to attend university in Australia. She is the author of eight books of poetry, fiction and non-fiction published in Vietnamese, and her writing has been translated and published in more than 10 countries, most recently in Norton's Inheriting the War anthology. She has been honored with many awards, including the Poetry of the Year 2010 Award from the Ha Noi Writers Association, as well as many grants and fellowships. Married to a European diplomat, Quế Mai currently lives in Jakarta with her two teenage children.
About our cosponsor:
The William Joiner Institute for the Study of War and Social Consequences promotes research, curriculum development, events, and educational, cultural, and humanitarian exchanges which address the consequences of war. By serving veterans, family members of veterans, war refugees and all victims of war, we aim to create a public space where the issues of war and their human, social, political, and environmental consequences can be openly discussed, debated, and analyzed.