Upcoming Event
Brookline Booksmith Used Book Cellar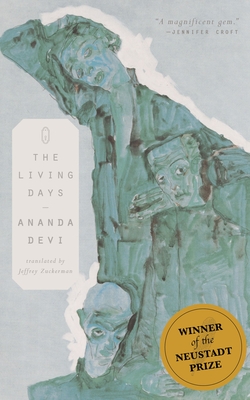 Buy Now
The Living Days
A chance encounter on Portobello Road incites an unsettling, magnetic attraction between Mary, a seventy-five-year-old white British spinster, and Cub, a thirteen-year-old Jamaican boy from Brixton. Mary clings increasingly to phantoms as dementia overtakes her reality, latching on to Cub and channeling her remaining energy into their relationship. But their macabre romance comes to a horrific climax, as white supremacy, poverty, and class conflict explode on the streets of London.
Through exquisite juxtaposition, Ananda Devi uses alluring prose to confront the tensions of an increasingly nationalistic metropolis, and to examine the queasy nature of desire muddled with power. Translated by Jeffrey Zuckerman.
Ananda Devi was born in 1957 in Mauritius, noted for its confluence of diverse ethnic, cultural and linguistic identities. Devi won her first literary prize at the age of fifteen for a short story in a Radio France Internationale competition. After a few years spent in Congo-Brazzaville, Devi moved to Ferney-Voltaire in Switzerland in 1989, where she lives today. She has published twelve novels as well as short stories and poetry, and was featured at the PEN World Voices Festival in New York in 2015. Her literary awards include the Prix des Cinq Continents de la Francophonie (2006) and Prix Télévision Suisse Romande (2007) for Ève de ses décombres, as well as the Prix Louis-Guilloux (2010) and the Prix Mokanda (2012) for other works. In 2010 Devi was made a Chevalier des Arts et des Lettres by the French government and in 2014 she was awarded the Prix du Rayonnement de la langue et de la littérature françaises by the Académie Française. Her latest novel, Manger l'autre (2018) won the Prix Étonnants Voyageurs.
Jeffrey Zuckerman is a translator of French and the Digital Coordinator at Music & Literature Magazine. His translations include Ananda Devi's Eve Out of Her Ruins, the diaries of the Dardenne brothers, and Jean Genet's The Criminal Child. He has also contributed shorter pieces to Frieze, The New Republic, The NYRDaily, The Paris Review Daily, The White Review, and VICE. Jeffrey studied English literature and literary translation at Yale University, and has served as a judge for the PEN Translation Prize and the National Translation Award. He is a recipient of a PEN/Heim Translation Fund grant for his ongoing work on the complete stories of Hervé Guibert.