Upcoming Event
Brookline Booksmith Used Book Cellar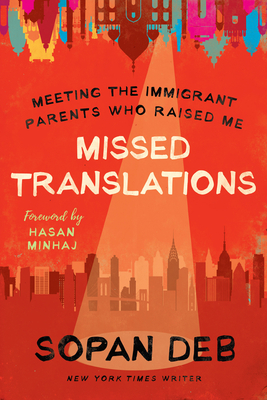 Buy Now
Missed Translations
Approaching his 30th birthday, Sopan Deb had found comfort in his day job as a writer for the New York Times and as a practicing comedian. But his stage material highlighting his South Asian culture only served to mask the insecurities borne from his family history. Sure, Deb knew the facts: his parents, both Indian, separately immigrated to North America in the 1960s and 1970s. They were brought together in a volatile and ultimately doomed arranged marriage and raised a family in suburban New Jersey before his father returned to India alone.
Deb's experiences as one of the few minorities covering the Trump campaign, and subsequently as a stand up comedian, propelled him on a dramatic journey to India to see his father—the first step in a life altering journey to bridge the emotional distance separating him from those whose DNA he shared.
Deb had to learn to connect with this man he recognized yet did not know—and eventually breach the silence separating him from his mother. As it beautifully and poignantly chronicles Deb's odyssey, Missed Translations raises questions essential to us all: Is it ever too late to pick up the pieces and offer forgiveness? How do we build bridges where there was nothing before—and what happens to us, to our past and our future, if we don't?
Sopan Deb writes for the New York Times, where he has written about the N.B.A. and culture, and is a stand-up comedian. Prior to the Times, he covered Donald Trump's presidential campaign from start to finish as an embed with CBS News. His work has appeared on NBC, Al Jazeera America, and in the Boston Globe. He won an Edward R. Murrow award for Larger Than Life, a documentary he produced for the Boston Globe. Deb lives in New York City.