Past Event
Virtual Event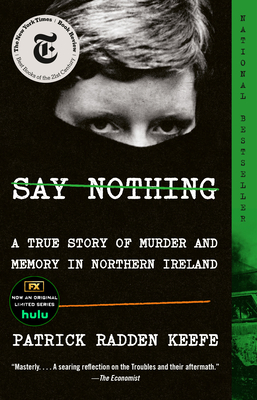 Buy Now
Our book club goes virtual, with a zoom meeting open to all.
Read more about this month's selection below, click the book image to order a copy, and register for the meeting for free by emailing our moderators, Chris and Angela, at

bookclub@brooklinebooksmith.com

.
In December 1972, Jean McConville, a 38-year-old mother of ten, was dragged from her Belfast home by masked intruders, her children clinging to her legs. They never saw her again. Her abduction was one of the most notorious episodes of the vicious conflict known as The Troubles. Everyone in the neighborhood knew the I.R.A. was responsible. But in a climate of fear and paranoia, no one would speak of it. In 2003, five years after an accord brought an uneasy peace to Northern Ireland, a set of human bones was discovered on a beach. McConville's children knew it was their mother. Patrick Radden Keefe's mesmerizing book on the bitter conflict in Northern Ireland and its aftermath uses the McConville case as a starting point for the tale of a society wracked by a violent guerrilla war, a war whose consequences have never been reckoned with.
Patrick Radden Keefe is a staff writer at The New Yorker, an Eric and Wendy Schmidt Fellow at the New America Foundation and the author of The Snakehead and Chatter. His work has also appeared in The New York Times Magazine, Slate, New York, and The New York Review of Books, among others and he is a frequent commentator on NPR, the BBC, and MSNBC. Patrick received the 2014 National Magazine Award for Feature Writing for his story "A Loaded Gun," was a finalist for the National Magazine Award for Reporting in 2015 and 2016, and is also the recipient of a Guggenheim Fellowship.
Add to Calendar