Past Event
Virtual Event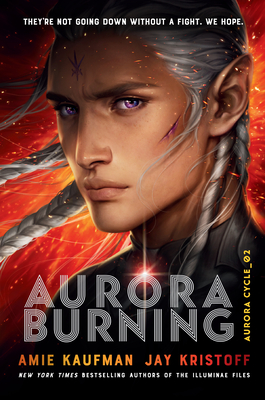 Buy Now
You can sign up for this Crowdcast virtual event

<strong>by following this link</strong>

!
Our heroes are back . . . kind of. From the bestselling co-authors of the Illuminae Files comes the second book in the epic Aurora Cycle, about a squad of misfits, losers, and discipline cases who just might be the galaxy's best hope for survival.
First, the bad news: an ancient evil--you know, your standard consume-all-life-in-the-galaxy deal--is about to be unleashed. The good news? Squad 312 is standing by to save the day. They've just got to take care of a few small distractions first. Shocking revelations, bank heists, mysterious gifts, inappropriately tight bodysuits, and an epic firefight will determine the fate of the Aurora Legion's most unforgettable heroes--and maybe the rest of the galaxy as well.
Amie Kaufman and Jay Kristoff are the New York Times bestselling co-authors of the Illuminae Files. Amie has also co-written (with Meagan Spooner) the Starbound and the Unearthed trilogies. Jay is the author of the LIFEL1K3 series, as well as the Nevernight Chronicle and the Lotus War series for adults. Collectively, Amie and Jay stand 12'5" tall and live in Melbourne, Australia, with two long-suffering spouses, two rescue dogs, and a plentiful supply of caffeine. They met thanks to international taxation law, and stuck together due to a shared love of blowing things up and breaking hearts.
Erin Bowman used to tell stories visually as a web designer. Now a full-time writer, she relies solely on words. She lives in New Hampshire with her family, and when not writing she can often be found hiking, commenting on good typography, and obsessing over all things Harry Potter. Erin is the author of Contagion and its sequel, Immunity, the Taken trilogy, Vengeance Road, and Retribution Rails.
Click on the book image to buy yourself a copy of Aurora Burning, and support Amie and Jay, as well as Brookline Booksmith!
Add to Calendar