Past Event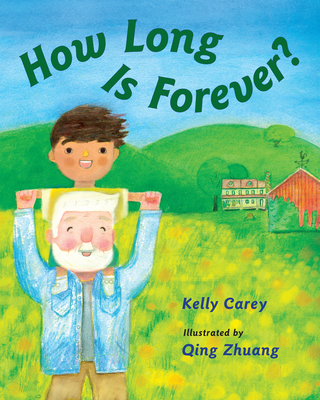 Buy Now
Click the button above to register for Kelly Carey's virtual Sunday Storytime event.
Mason is waiting for Nana's blueberry pie and complains that it's taking forever. So Grandpa challenges him to figure out how long forever really is. Is it as long as Grandpa has had his tractor? No. As long as it took Nana to grow the roses to the top of the chimney? Not even close. After a trip around the farm to figure out the answer, Nana's pie is ready. And Mason's finally got the answer: forever is how long he'll love Nana's pie and how long he'll love Nana and Grandpa, too.
Kelly Carey holds a BS in English and communication from Fairfield University. She is a busy mom who has worked in insurance, as a freelance copyeditor, and as an elementary school substitute teacher. She lives in Massachusetts. How Long Is Forever? is her first picture book.
Click the book image to buy a copy of How Long is Forever? and support Kelly Carey and Brookline Booksmith!
Add to Calendar