Upcoming Event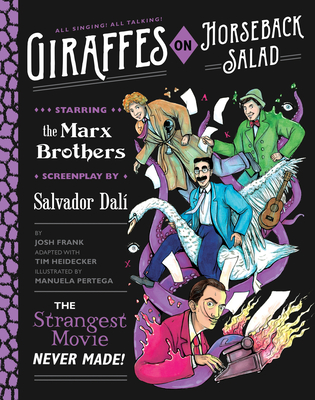 Buy Now
Click the button above to register for this virtual event.
Author and lost-film buff Josh Frank joins comedian Tim Heidecker and comics creator Manuela Pertega to create a full-color comic adaptation of _Giraffes on Horseback Salad--_a lost Marx Brothers film written by none other than Salvador Dalí.
Josh Frank is author of Fool the World: The Oral History of a Band Called Pixies, In Heaven Everything Is Fine, and, with Black Francis and Steven Appleby, the illustrated novel The Good Inn. In his spare time, he owns and operates the Blue Starlite Mini-Urban Drive-In Movie Theatre in Austin, Texas.
![](/uploads/JArts Logo for Josh Frank event graphics.jpg)
Click on the book image to buy yourself a copy of Giraffes on Horseback Salad and support Josh and Brookline Booksmith!
Add to Calendar