Upcoming Event
Brookline Booksmith Used Book Cellar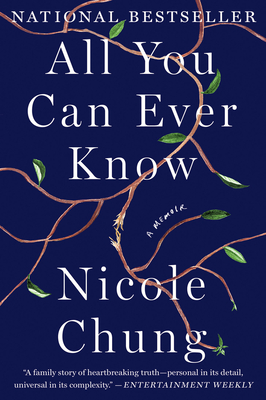 Buy Now
The Transnational Literature Series welcomes Korean adoptees to discuss identity, belonging, adoption—and writing their stories.
With warmth, candor, and startling insight, Nicole Chung tells of her search for the people who gave her up, which coincided with the birth of her own child. All You Can Ever Know is a profound, moving chronicle of surprising connections and the repercussions of unearthing painful family secrets—vital reading for anyone who has ever struggled to figure out where they belong.
Nicole Chung was born and raised in the Pacific Northwest and currently lives in the Washington, DC area. Her nationally bestselling debut memoir All You Can Ever Know was a finalist for the National Book Critics Circle Award for Autobiography, longlisted for the PEN Open Book Award, and named a Best Book of the Year by The Washington Post, The Boston Globe, NPR, TIME, Newsday, Library Journal, BuzzFeed, Goodreads, and Chicago Public Library, among many others. She is the editor in chief of

<em>Catapult</em>

magazine, co-editor of the immigration anthology A Map Is Only One Story, and the former managing editor of <a class="no-underline" href="https://the-toast.net/"
<em>The Toast</em>. Her next book is forthcoming from Ecco Books/HarperCollins.
In her beautiful and haunting memoir of kinship and culture rediscovered, Older Sister. Not Necessarily Related Jenny Heijun Wills recounts the story of reconnecting with her first family in Korea while living at a guesthouse for transnational adoptees. Delving into gender, class, racial, and ethnic complexities, as well as into the complex relationships between Korean women—sisters, mothers and daughters, grandmothers and grandchildren, aunts and nieces—Older Sister. Not Necessarily Related. describes in visceral, lyrical prose the painful ripple effects that follow a child's removal from a family, and the rewards that can flow from both struggle and forgiveness.
Jenny Heijun Wills is the author of Older Sister. Not Necessarily Related: A Memoir, which has received much acclaim, including being one of the Globe & Mail's top 100 books of 2019, one of the Winnipeg Free Press's 10 best books of the last decade, and winning the Hilary Weston Writers' Trust award for Non-Fiction in 2019. She has lived, studied, and worked in Montreal, Boston, Toronto, and Seoul. She teaches in the Department of English at the University of Winnipeg.
About the moderator:
Mee-ok is the

winner

of the Construction Literary Magazine Contest for Nonfiction and was selected as a finalist for the Annie Dillard Award for Creative Nonfiction. She has also been featured in the <a class="no-underline" href="https://www.latimes.com/entertainment-arts/movies/story/2020-04-09/coronavirus-parasite-south-korea-adoptee"
<em>LA Times</em>, Boston Globe Magazine, and Michael Pollan's anthology for Medium, where her piece was named Editor's Pick, with more forthcoming in the American Journal of Poetry and Korean Quarterly. She will also be a Voices of Color Fellow at the Martha's Vineyard Institute of Creative Writing and has been a visiting lecturer and Writer in Residence at the Frank Lloyd Wright estate, Taliesin.
Add to Calendar